Considering the oldest necklaces were made of purely natural materials tied together and adorned with shells, bones or teeth or colorful skins of human prey animals, bird feathers, corals, carved pieces of wood, colorful seeds or stones or naturally occurring gems, things have come along way since the Stone Age !





In todays worldwide recession which see's most of us tightening our belts, we don't wish to loose our individuality.  Cheap high street fashion shops will benefit in these times but we have highlighted some chosen pieces listed here with sites on www.alittlebitindividual.com
Winter Blues and Burnt Sienna with Sterling Silver

.
An elegant necklace. Sterling silver tubes separate silver lined balls of teal, ice blue and burnt sienna glass beads. The 14mm glass beads, have a satin finish. Every time you wear them the colour becomes more intense as your skin nourishes the surface.
A beautifully smooth, handmade, sterling silver clasp catches the eye- everyone will be able to see that your necklace is special. It looks good from every direction.
A number of beautiful colour combinations are available and can be made just for you.
£24 with a gift box. www.createdbyclare.co.uk
Turquoise Rose & Peach Necklace
An elegant turquoise rose and peach necklace handcrafted from polymer clay and teamed with metallised silver rose beads. The necklace has been finished with a light silver plated chain, findings and toggle clasp.
Black White Millefiori Thong Necklace
A lovely black and white monochrome necklace handcrafted from polymer clay featuring an assortment of beads using techniques like millefiori caning. The necklace has been finished with a black faux suede cord and silver plate clasp.
www.lottieoflondon.co.uk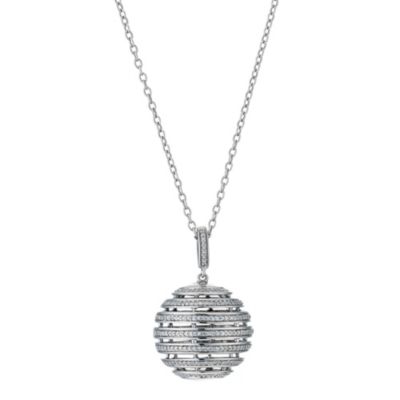 Amanda Wakeley 0.33 carat diamond sphere pendant
Amanda Wakeley sterling silver and 0.33 carat diamond sphere pendant. Exclusively designed by Amanda Wakeley for Ernest Jones, this striking limited edition pendant is one of only 2000 produced and features a hidden ruby. The pendant comes with a patented Italian adjustable chain so it can be worn in different ways to suit your style.
Indulge in unique Amanda Wakeley designs, ranging from vintage to modern minimalist