When one thinks of white shirts they often relate them to the corporate work environment. Some would be more prone to think back to school uniforms and perhaps the utilitarian style that those images conger up. On a man, the white shirt does indeed evoke a sense of formal occasion, but on a woman, the classic white shirt can be so much more. Just like the little black dress, a formal white shirt has, for many years, been one of those essential must have's in any woman's wardrobe. The versatility of the everyday woman's white shirt is endless, as are the many cuts shapes and styles that are available today.

// ]]>
Paired with jeans, the woman's white shirt can be a casual yet stylish masterpiece offering a well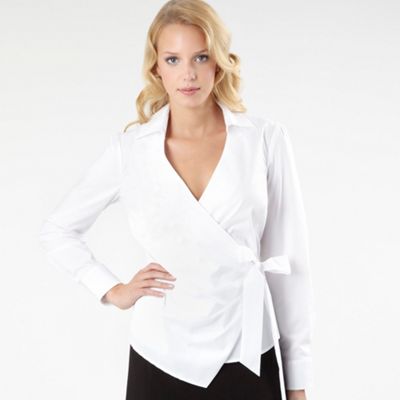 groomed, effortless look. For an even more relaxed style, wear it unbuttoned, as on over shirt to a vest or strappy top, or perhaps pull it in at the waist with a sumptuous wide belt. For a more formal event, the ladies white shirt will add a touch of classical elegance to any trouser or skirt suit combination. As a basic staple the white shirt can be worn with casual denim skirts, classically shaped pencil skirts, dresses, trousers or jeans. Turn up the collar and roll up the sleeves for a twist on the classic chic style.
It was Coco Chanel who rocked the fashion world back in the 1920's with the woman's shirt. As she began to experiment with creating ladies fashion from the classic gentleman's suit and renowned for wearing men's fashion herself, Coco Chanel took the white shirt and added her own style to create timeless, iconic femininity. Usually only reserved for uniforms, the white shirt was accepted by the Hollywood set in the 1950's in particular Audrey Hepburn as she donned a loose fitting white shirt with upturned collar and rolled up sleeves in Roman Holiday.
Noted as the most versatile item of clothing in a woman's wardrobe today, the classic white shirt has become one of the staple ingredients that can be dressed up or dressed down. Inspired by men's formal attire, the shape and style of the ladies white shirt has come a long way in recent years.
The modern woman's white shirt has been shaped; nipped in at the waist, and encourages the show of a little cleavage, but it has also been developed to suit the shape of all women of all sizes. With ruffles, floral trims, stylish tailoring, longer lengths, shorter sleeves or the 'boyfriend' look, there is a timeless classic crisp white shirt made for every single woman, regardless of their body shape and style.
Perfect for everyday wear, not just the workplace, the ladies white shirt makes looking chic and stylish effortless. Astunningly simple look to put together, you can banish those days when you proclaim that you have nothing to wear. Just pick up that white shirt and wear it with anything!